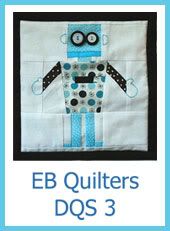 It has been a little while since I have been able to do any sewing as I have been rather busy with study and life in general however, last month I signed up to take part in the EB Doll Quilt Swap so I have finally made a start and tonight have finished my top layer of the quilt.
The rules of the swap allow me only to provide a sneek peek until opening day which isnt until the first week of november so here is my first sneek peek photo.
This is the first quilt I have ever made and I have to say that I am quiet pleased with how it is turning out so far and I think that it will be quiet cute for its intended purpose for my recipient who at moment must remain a secret... so here is the sneek peek, Enjoy!